Hill-Top Roofing in Santa Fe, New Mexico offers energy efficient, "green" alternative roofing solutions; specializing in residential and commercial roof repair, roof restoration, long-term, economical new roof solutions, home inspection repairs, as well as permanent solutions to stucco repair and stucco restoration. We use the best materials available and our workmanship is prompt, professional and clean.
Hill-Top Roofing is a full-service roofing company that installs all forms of modern roofing materials and systems. TPO, Roof Coatings, Fabric Reinforced Roof Coatings, Spray Polyurethane Foam, Metal, and Shingles.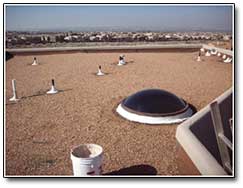 Hill-Top Roofing is doing things a little differently. We don't use any tar, or tar based products. Considering our dry climate, many sunny days, and our temperature fluctuations from day to day; we think we need something better than tar, which dries out and becomes brittle and cracks. Instead, we use top-of-the-line acrylic latex roof coatings and caulking. These products were designed to reflect harmful UV rays, and stay flexible, down to forty degrees below zero, and never dry out.
-This means:
1. Repairs last much longer
2. New roofs are better suited for the environment, so less repairs and maintenance.
These products have been around for forty years and in northern New Mexico for 25 years. They have proven themselves in this area to hold up against our climate. Give us a call the next time you have a roof concern and see how our products and services can, permanently fix any roof problems, and save you money down the road.
Check out our Stucco Coating page to learn how we can protect and waterproof your house with our premium coatings. These coatings are very flexible so they resist cracking much better than traditional masonry stucco. Instead of re-stuccoing with the same, or similar, material that will just crack again, explore this alternative way to give your house an attractive and waterproof new finish.