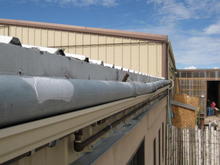 We also work on gutters, sub-surface waterproofing, canale's, installation of rain water catchment systems
Our liquid products when reinforced with our polyester fabric, dry, to make a strong but flexible lining for any gutter, making the oldest gutters leak free. Redirecting and collecting the water from your roof is a great way to save Santa Fe a little water.
We use recycled composite wood to make our canales. This material is gauranteed not to rot, warp, split, etc.
We look down the road and use products and systems that area going to be good for all of us in the long run.
COMPOSIT CANALE'S