Our Modified Bitumen / EPDM Restoration Systems are a proven way o seal up leaks; providing a sustainable, energy efficient roof, which could save you money on cooling costs.
BENEFITS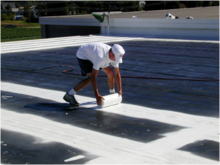 1. RESTORATION IS LESS EXPENSIVE THAN RE-ROOFING
2. RETURN ON INVESTMENT
-Through Energy Savings And Roof Performance And Lifespan
3. JOINT WARRANTY AVAILABLE That Covers Materials And Labor
4. SUSTAINABLE With Periodic Re-Coating Every 15 - 20 Years
HERE'S WHAT WE DO:
FIRST We Pressure Wash The Entire Roof Surface. SECOND We Seal And Reinforce Every Seam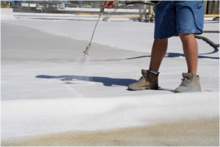 THEN We Top Coat The Entire Roof Surface With One Thick Coat Of Our Premium Roof Coatings.
This Roofing System Comes With A 10 Year Warranty
A light colored roofing system can save you money on cooling costs.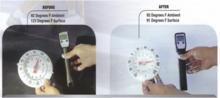 You can estimate the savings here www.roofcalc.com/ just answer all the questions and this program can tell you approximatley how much money you can expect to save if you switched from a adark colored roof, to a more energy efficient white, or light colored roof.