We are proud to be Conklin www.conklin.com certified applicators. This means we have recieved specific training from the Conklin Co. focused on the correct application process for Conklin's products and roofing systems.
What does it mean?
1. The products will be applied to the manufacturers specifacations.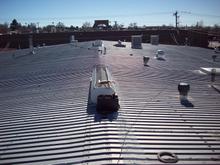 2. We have a direct link to the manufacturer, for immediate response with regards to any problem that may arise.
3. We are able to apply a JOINT WARRANTY to any commercial roof work.
A JOINT WARRANTY is a manufacturers warranty that covers not only the materials that were used, but also the certified applicators workmanship. Conklin will send an inspector to review the work once it is completed. With the inspectors approval, Conklin will issue a Joint Warranty, that insures the work was done properly, and with the right materials. Conklin will pay for any additional labor or materials necessary to keep your roof leak-free for the entire warrantied period. This is better than a materials warranty, which will not cover any workmanship mistakes or costs.