HILL-TOP ROOFING was formed by the president, Kirk Hill. Kirk is originally from Ohio; which served as a home base, facilitating his travels around the country, and the world. Between graduating from college, and finally settling in Santa Fe with his new wife, Dawn; Kirk lived in Idaho, Montana, Yellowstone Park, Arizona, Utah, Hawai'i, and New Zealand. New Mexico "has the best blend" of people, scenery, and recreation - alot of fishing.
When Kirk and Dawn moved to Santa Fe in 2007, he began working for local roofing companies; four, in total, before he started his own. Hill-Top Roofing was established to bring good products and services to the good people of Santa Fe. While working for other roofing companies, Kirk was able to see, first hand, what our specific roofing problems are here. And he also saw how alot of the companies were handling these problems.
Kirk worked as a roofer in southern Utah before he came to Santa Fe. He was in Moab, Utah; where temperatures in the summer always exceed 100 degrees, topping off at about 115 degrees! Nice place to be a roofer. In Utah, Kirk was introduced to the Conklin Company and their roofing products. Initially their acrylic latex roof coatings, then spray polyuethane foam, and also Conklin's TPO membranes. Kirk liked the roof coatings, and saw them "performing better than any other roofing system" in the harsh climate of southern Utah - intense UV, extreme daily temperature swings, and cold winters. "We would look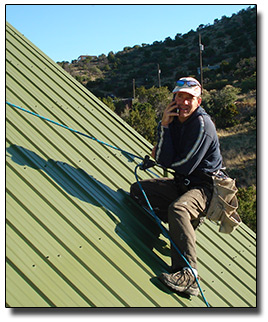 at some of my boss's 12 and 13 year old roofs, done with the roof coatings, and they still looked as good as the day he applied them. There was no degradation, the coatings wern't cracked or chalking away; you could still see the marks from the roller he used to put it down." He learned that the same quality he saw in the coatings, was also in the spray foam, and the membranes.
So when Kirk landed in Santa Fe, he recognized a need for the processes and materials that he learned and used in Utah. Unknown to Kirk, there was already a company in Albuquerque that had been using Conklin products exclusively with great success for more than 25 years. "I have roofs that are twenty-five years old, done with the roof coatings, that are still perfoming great." Mike Borders, of Techwest, told Krk; when they finally met.
Hill-Top roofing is using great products, and providing roofing that is friendly on the environment and your wallet. We are DEDICATED TO CUSTOMER SATISFACTION. With our systems and materials we can turn any roof into a sustainable, easy to maintain, energy efficient roof. Call Kirk today and see what he can do for you.