Our commercial roof restorations can save a building owner alot of money.
Roofs that are restorable
- Metal roofs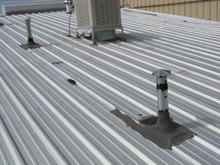 - EPDM (black rubber) roofs
- And, Modified Bitumen (BRAI, or "torch-down") roofs
We can restore these roofing systems back to a leak free system, without having to tear off your existing roof and replace it with something else. Tear offs are expensive and messy. We would like to keep your roof in place and simply seal and reinforce every, seam, bolt head, drain, etc. with our superior products, then coat the entire roof surface with one thick coat of our acrylic latex roof coatings. This leaves you with a fully reinforced, seamless roofing system applied right on top of your old roof. We can apply a manufacturers Joint Warranty to any commecial roof restoration.
Look below to see the restoration process for your type of roof.